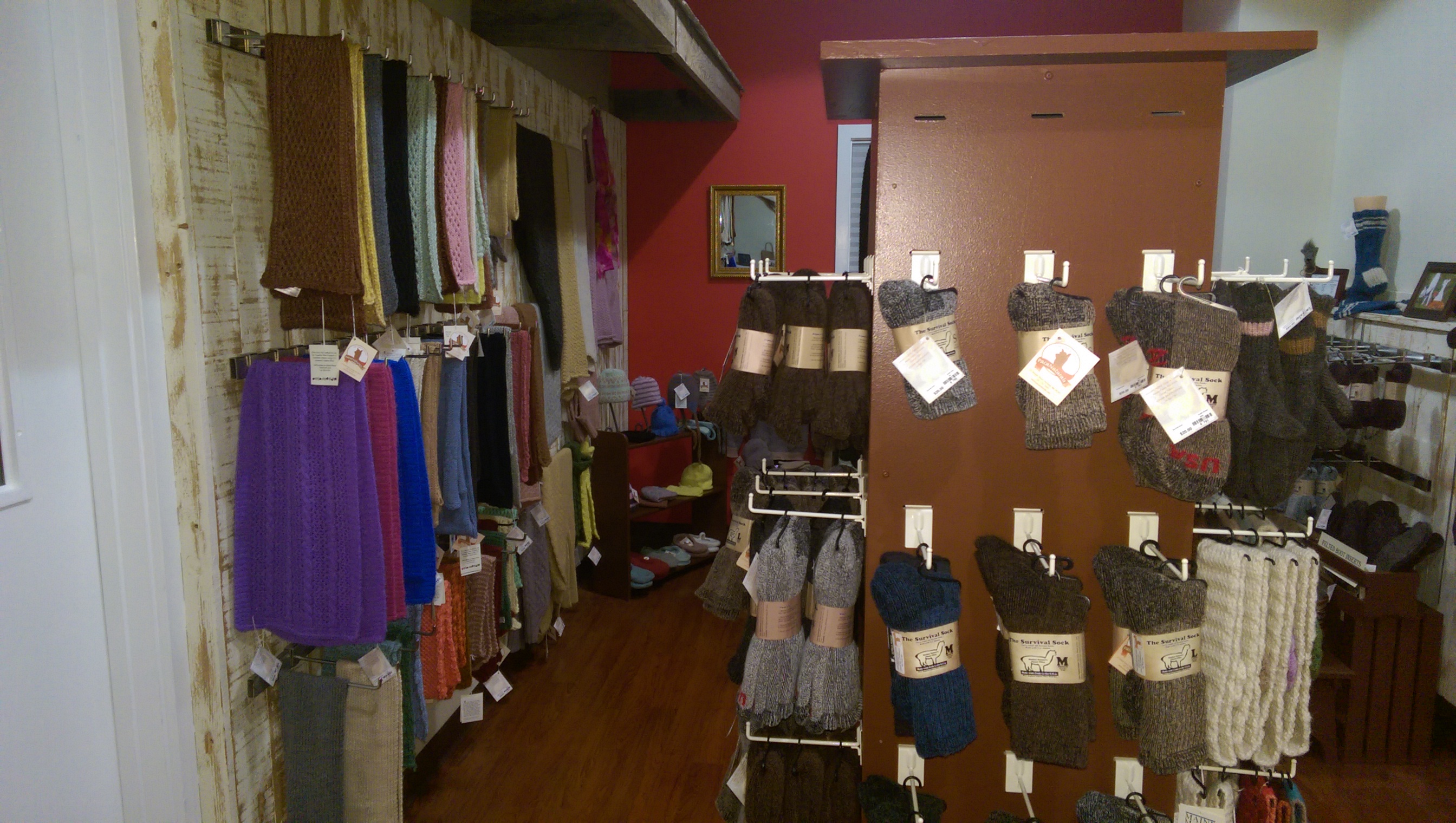 We, at PacaNaturals, are so happy to be in our new store in Cumberland. We are in a great neighborhood on Rt 100/26 and in the company of other fine retailers… Skillins Greenhouse, GoosePond Gift Shop, Skin Deep Salon and Spa, and CHOP (Cumberland House of Pizza) to name a few. We enjoy having twice as much space inside the store as we did in our Portland store. We have done well to fill up the display area with all of our great alpaca apparel and blankets.
While it was a mad rush for us to get our new store open, we finally opened on Black Friday and the holiday season was a good one all in all. We had a great reception from the local people that are happy to support a new small business nearby. It is nice meeting new customers coming in saying "Great to see your "NOW OPEN" sign", welcome to the neighborhood." So nice, also, to have some of our old patrons from the Portland store follow us to our new location.
As we cruise through the winter, we want you to know what is happening at our store. We've got some fabulous mid-winter sales on alpaca apparel and blankets right now. Needing to unload some of last year's inventory, we are excited to tell you about our big list of storewide savings. You'll enjoy big discounts on hats, scarves, cowls, fingerless mittens, socks, yarn, and the Maine Alpaca Blanket.
….. Many styles of hats…berets, beanies, braided earflap hats… all at 50% off regular pricing.
….. Gorgeous hand-knit and hand-felted hats made by a local artisan are all 20% off.
….. The Isabella scarf, lightweight and elegantly woven with a wool and silk blend thread lace, is on sale for $29…..marked down from a regular $45.
….. The Diamond Lace Cowl, sure to dress up any neck, is only $40….marked down from a regular $54.
….. Warm and functional wrist warmers for only $16!
….. Super soft skibands, great for keeping the ears warm when you are on the slopes, are only $18!
….. Yarn…200/300/400yrds in many bright hand dyed colors… 30% off!
….. And, again, we are offering the Maine Alpaca Couch Throw at a significant savings of $30-$40 off regular price…sale price until March 5 is $125. The blanket is made with fiber from alpacas grown and farmed in Maine. This warm and soft couch throw is 50″ x 60″ in size, very lightweight, yet extremely warm. Available in two patterns: striped and plaited twill. Check out our Maine Alpaca Blanket Facebook page for photos…we, also, have the blanket on Etsy.com and on our on-line store…pacanaturals.com.
So far this winter, we have had some strange and unpredictable weather. The temperatures could go from the low 20's one day, and up to 50 degrees the next. Those warm days give me spring fever Big Time! We have a busy springtime planned with events at the store, including a Spring Fling Open House in April, where you can meet and greet the alpacas and enjoy some more great sales on our storewide apparel and blankets. Stay tuned for more details as we move towards Spring.
We start to get a little busy at our farm come Spring, as well. Spring is when we shear the alpacas (give them a shave). We call it harvesting the fiber. We use local mills to process the fleece into beautiful yarns, and then employ local knitters, weavers, and felters to produce our fine products you will see in the store. We plan to host a Spring Harvest event at the store where you can see and learn about alpaca shearing and the fiber production process. We will share the details with you soon regarding this event as they come together.
Stop by our new store to enjoy some great savings on alpaca wear throughout the store! PacaNaturals can help you stay warm through the rest of the winter ….however long that may be.